Who Is The World's Number One Carbon Polluter?
Canada, #1 Carbon Polluter (CO2) 
Huge emissions of CO2 are being produced by our neighbors to the north, Canada.  That's right Canada not a third world country, like Indonesia mentioned in a prior blog post. 
This pollution is unchecked and permitted by the Canadian government.  In fact, Canada is the world's largest carbon polluter per capita on earth.  If this pollution continues unchecked, as it is now, Canada will emit more CO2 than the United States and China combined in their entire histories.
The culprit is oil extraction from the Canadian tar sands in Alberta, Canada.  This is where low-grade crude oil is extracted from the regions thick sands through an extremely expensive, energy-intense, and complex process.  The process has been a significant carbon polluter of the air, land, and water in the region for years.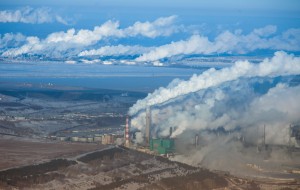 Want More?
1,000 acres of Canada's pristine evergreen forest have been leveled.  Pictures from the air show a devastated landscape.
The oil extracting process is an energy consuming behemoth, i.e. it takes 2 barrels of oil to extract 3 barrels. 
So far 300 square miles of forest have been stripped; however, the size of the tar sands is equivalent to the size of Florida.
For a wonderful depiction of this and related environmental challenges check out National Geographic's feature program, "Bill Nye's Global Meltdown" which premiered Sunday evening, November 1.  The next showing will be November 8th at 9:00.  The program entertainingly depicts very serious problems confronting us all.
As this blog and others illustrates, local environmental problems can have global implications.  Since TKEC's mission is to encourage healthy and safe environments for people to work, reside and enjoy we actively promotes clean air, water and soil through many of our blogs posts.