Asbestos Testing Around Dayton, OH
Asbestos Hazard Evaluation and Sampling
TKEC's state certified asbestos professionals prepare and conduct asbestos hazard evaluations with sampling and analysis: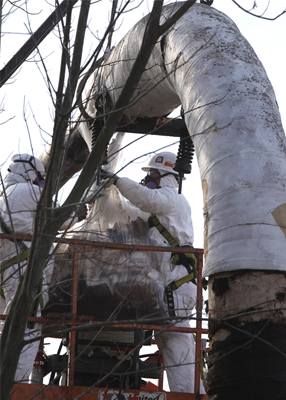 Asbestos surveys
Asbestos abatement project design 
Asbestos abatement oversight and owner's representation
Abatement air monitoring and clearance testing
Employee awareness training
Our certified professionals provide a written inspection report to document the location, condition, analytical results, and related quantities of asbestos containing materials evidenced as a result of the asbestos hazard evaluation and sampling with recommendations.
If it is necessary to abate and remove the asbestos containing materials (ACMs), Turn-Key prepares an Asbestos Hazard Abatement Project Design for the abatement contractor to implement. TKEC also provides Asbestos Abatement Oversight to monitor the abatement process for the owner. The asbestos project case study is a good representation of the asbestos related services.
We're currently scheduling appointments for Asbestos Testing Services
Contact us today to schedule your Asbestos Testing in Dayton, Ohio
Other Environmental Consulting Services: