Safety Training, Seminars, Workshops & Coaching
Dayton and Southwest Ohio's premier safety training sessions and team coaching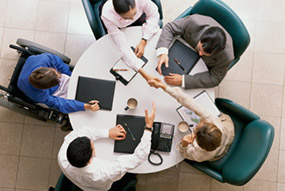 Turn-Key Environmental Consultants, Inc. and Treasure Associates have joined together now offering a variety of seminars.  Each program is a dynamic educational experience to improve employee performance and enhance individual development while maximizing training dollars.  We tailor our approach to meet your organization's needs through seminars, training programs for both large and small groups as well as individual professional coaching sessions.
Safety Training
Interpersonal Communication Skills
Time Management
Safety Training
Safety in the Workplace
Workplace accidents and injuries cost employers millions of dollars and thousands of hours in lost productivity every year. They also have a profound, often lifelong impact on workers. Introducing a safety culture into your organization, where safety is valued as an integral part of the business's operation, not only saves the business time and money, it also builds a committed, loyal, healthy workforce. Our safety workshops not only give participants the foundation to start building a safety culture, they also provide specific skills and knowledge for a wide variety of safety challenges.
Professional Development
5 Steps to Successful Communication
Creating a competitive advantage by improving interpersonal communication and relationships is good business. By improving interpersonal communications, tension is reduced, teamwork is enhanced, conflict is minimized and results are more easily achieved. Investing in employees with communication skills training creates higher levels of workplace satisfaction while improving productivity and morale.
"Many thanks for an insightful and fast-paced program. Very well done. Enjoyed and understood by all. You couldn't have been better! I have told many others how pleased we were with the seminar. Great Work!" Dave FitzSimmons, President/CEO Woodland Cemetery, and Arboretum.
Time Management
Effective time management is the key to getting the most out of the day. Because we are busy, often juggling multiple priorities, we benefit from new ideas and tools to help us manage our time better. By learning and adopting our 6 step, systematic approach to time management, employees acquire tools they will readily use.
"The straightforward approach of this seminar opened up my thinking to new ways of managing my work time and my personal time." R. Rutherford, Huntington Bank.
We're currently scheduling appointments for Seminars and Workshops
Contact us today to schedule your Team & Employee Training in Dayton, Ohio
Other Environmental Consulting Services: