Toxic Release Inventory (TRI) – Industrial Compliance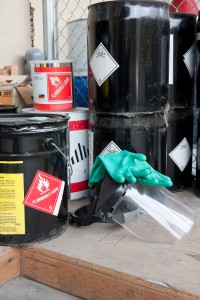 Toxic Release Inventory (TRI) Program ( Form R's)
TKEC's team of environmental professionals help many industrial and manufacturing clients complete and submit required reporting to regulatory authorities.  Assistance with the Toxic Release Inventory Program is one of TKEC's Industrial Compliance Services. 
Each year, certain industrial facilities submit Toxics Release Inventory (TRI) data to EPA. The data are due by July 1 and cover waste management activities that occurred during the previous calendar year. EPA makes these data publicly available.
Toxic Release Inventory (EPCRA Section 313) reporting is required if threshold quantities are exceeded. Separate thresholds apply to the amount of the EPCRA Section 313 chemical that is manufactured, processed or otherwise used.
A facility must submit a report for any EPCRA Section 313 chemical that is not listed as a PBT (Persistent Bioaccumulative Toxic chemicals):
Manufactured in excess of 25,000 pounds over the calendar year;
Processed in excess of 25,000 pounds over the calendar year; or
Otherwise used in excess of 10,000 pounds over the calendar year.
Companies across a wide range of industries (including chemical, mining, paper, oil and gas industries) that produce more than 25,000 pounds or handle more than 10,000 pounds of a listed toxic chemical must report it to the TRI. 
If a facility meets all three of the criteria below, it must report to the TRI Program:
Is in a specific industry sector (e.g., manufacturing, mining, electric power generation)
Employs 10 or more full-time equivalent employees
Manufactures, processes, or otherwise uses a TRI-listed chemical in quantities above threshold levels in a given year. 
Contact us today 937-335-8807 if you are in need of assistance with your Toxic Release Inventory reports. See the handy table below regarding the TRI reporting steps.