Tornadoes' Environmental Effects on Sites and Buildings
Tornado Debris Creates Hidden Dangers
The series of tornadoes that struck the Dayton region on May 27 and 28 caused widespread damage to homes, commercial buildings and property. Many buildings have been structurally damaged or destroyed. Consequentially, there is a need to demolish the remaining standing structures of damaged buildings to ensure people's safety.
The Ohio EPA and the Regional Air Pollution Control Agency (RAPCA) have issued guidance documents to direct cleanup efforts as it relates to asbestos.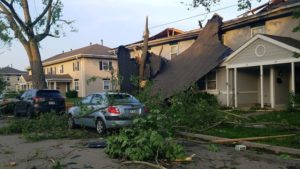 Summary of Tornado Debris Guidance
Residential structures having fewer than 4 dwelling units are exempt from all asbestos regulations. This includes building debris on the ground from structures destroyed by the severe weather.
If a commercial building or residential buildings with five or more dwelling units, are structurally unsound and in danger of collapse, the local governmental agency (city, township governmental office or local fire department) should be contacted to inform them of the emergency and need to bring the building down for safety reasons.
If there are issues with obtaining an order, please contact RAPCA at 937-224-3892.
 If there are issues reaching RAPCA, Ohio EPA will accept documentation that buildings are structurally unsound that is signed by a professional engineer, civil engineer, architect or insurance representative, along with photographic
documentation, in lieu of a demolition order from a government agency. This alternative documentation will be accepted from May 31, 2019, through July 31, 2019, for emergency demolitions within Montgomery, Greene and Mercer counties.
Sampling tornado debris. Ohio EPA's asbestos rules specify that buildings to be demolished must be inspected for asbestos and if asbestos is present that asbestos is removed by licensed remediators prior to demolition. Because of the unique circumstances associated with the tornado debris, an inspection may not be possible. In that case, all debris material will need to be treated as asbestos-containing waste.
Consequentially, all the demolition debris must be properly wetted, packaged, manifested, and disposed of at a permitted asbestos landfill. The goal is to prevent asbestos-containing materials from becoming airborne to protect the public.
If the debris can be sampled, and it is determined there is no asbestos, the debris can be treated as normal demolition waste. There is a significant cost difference for disposal costs between asbestos-containing waste and non-asbestos containing waste.
Contractor requirements: Ohio EPA recommends the use of licensed asbestos contractors and workers. However, the scale of damage and magnitude of the demolition work that is required in the short term may limit the number of available licensed contractors. In situations where a licensed contractor is unavailable, Ohio EPA will allow for the use of other contractors, provided the contractor complies with Ohio EPA's asbestos rules.
In addition, Ohio EPA requires that at least one person, trained in the asbestos regulations (for example, an Ohio EPA Asbestos Evaluation/Abatement Specialist or Abatement Project Designer) be on-site during the demolition to provide assistance and guidance. This alternative approach to the use of a licensed contractor will only be accepted from May 31, 2019, through July 31, 2019.
Requirement for Notification: Persons conducting demolition should formally notify the Ohio EPA's Division of Air Pollution Control as early as possible prior to the start of the demolition.
Additional Information and Questions
If you need additional information or have questions, contact:
Turn-key Environmental services can help you navigate the path through the EPA and RAPCA. Please contact us to help.