Tips for a Merry and Green Holiday Season
Excerpt from Union of Concerned Scientists, Greentips
There are simple ways to "green up" your holidays that may even save you money and spark new gift ideas. Keep these considerations in mind:
Life span: Look for gifts that are long-lasting and durable, or that can be passed onto someone
else when your recipient has finished using it.
For the person who already has everything, con- sider giving a personalized gift.
Materials: Try to purchase products made from organic or recycled materials, in minimal, recy-
clable packaging. If you're buying electronic or household items, look for the most energy-
efficient models. You can ask store clerks for this information or research products online.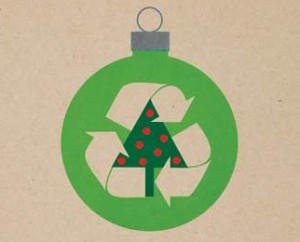 BYOB: Bring your own tote bag to carry gifts, avoiding the waste of paper and plastic bags.
Plan ahead: Consolidate your shopping trips to save gas. Shop locally, or skip driving altogether
by shopping online.
Creative gift wrapping: If each American household wrapped three gifts in reused materials,
enough paper would be saved to cover 45,000 football fields.* Reuse old wrapping paper,
gift bags or boxes, and Sunday comics, or make cloth bags in which to present your gifts.
Cards: Purchase cards made from recycled paper, or cut the picture side off of old cards and
send them as postcards. Better yet, skip paper altogether and wish a happy holiday to loved
ones via the Internet ("e-cards"), telephone, or in person.