Protecting Ohio Jobsites Through Asbestos Testing and Abatement Oversight
Ensure safety and compliance with proper environmental testing.
About 1.3 million U.S. workers are at risk of asbestos exposure, which is the number one cause of work-related deaths in the world.
Construction companies, architects, and commercial developers alike need to be aware of not only the dangers of asbestos, but the importance of asbestos testing and remediation. At Turn-Key Environmental Consultants (TKEC), state-certified asbestos professionals perform asbestos hazard evaluations and sampling on all types of commercial structures and residences. Here are just some of the TKEC services that can help prevent asbestos-related health concerns: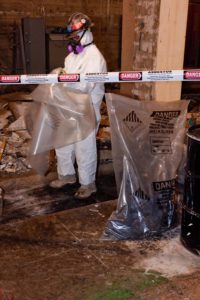 Asbestos surveys which include testing and analysis with a detailed report
Asbestos abatement project design
Asbestos abatement oversight and owner's representation
Abatement air monitoring and clearance testing
Employee awareness training
Asbestos Abatement and Remediation
Asbestos is a problem whenever a structure is going to be remodeled or demolished or whenever the asbestos has deteriorated, and fibers have become airborne or are in danger of becoming airborne. In the U.S., asbestos surveys and asbestos removal is highly regulated. Both services must be completed by EPA licensed consultants and contractors.
Once the asbestos survey has been completed and an abatement design has been approved, remediation can begin. While asbestos abatement is taking place, containment is set up to separate the abated area from the rest of the structure. Individuals may enter the building wherever abatement is not taking place. Abatement professionals in the contained area are required to wear protective clothing and equipment. Most other people associated with the structure are not permitted in the containment area. All people who enter the containment area must wear protective equipment and clothing.
Remediation of asbestos means removing or containing the asbestos in an approved manner. TKEC's abatement design and oversight services guarantee the remediation is done properly.
Asbestos is dangerous. Turn-Key's team of certified professionals can help. They will conduct a thorough investigation, design the abatement plan, and oversee the entire process through completion ensuring the structure is safe and asbestos-free.
Don't let this dangerous mineral jeopardize your project or the health of your team. Call Turn-Key Environmental Consultants 937-335-8807.
Or call today to schedule an appointment with our Dayton Ohio environmental consultants.