OSHA, GHS, and Your MSDS and Labels
OSHA released its proposal to modify the current Hazard Communication
Standard (HCS) to conform with the United Nations Globally Harmonized
System of Classification and Labeling of Chemicals (GHS). The proposed PSHA revisions
include both philosophical and tactical changes to Hazard Communication that have
far-reaching implications for Material Safety Data Sheets (MSDS and the authoring, publishing,
distribution and management of labels.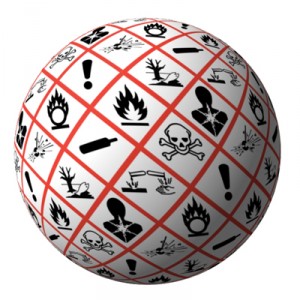 The proposal also includes revised criteria for the classification of hazardous chemicals, as well as changes to definitions and terms used in the standards and new training requirements for employees. When the final rule is promulgated, companies will face many challenges, including re-evaluating how their substances and mixtures are classified, reissuing MSDSs and labels and training staff as appropriate.
Companies can do several things now to prepare for OHSA's promulgation of the final
rule, including taking stock of their existing compliance tools and associated chemical
regulatory information to ensure they address the proposed new requirements.
Achieving conformance with GHS in the US is expected to be quite cumbersome.
Strong processes, applications, systems, and service providers are needed to support the
various aspects of compliance management for GHS.