Lead Paint Testing: Inspections and Risk Assessments
The Ohio Property Owner's Guide to Lead Paint Testing
The risk of exposure to lead paint is a serious issue that needs to be addressed by homeowners and business owners alike. It's important to understand the basics around lead paint testing and how an environmental firm like Turn-Key can help you. (For more on the health effects of lead-based paint, see our companion article: "The Dangers of Lead-Based Paint".)
Testing to see if your property has the risk of lead contamination is important if: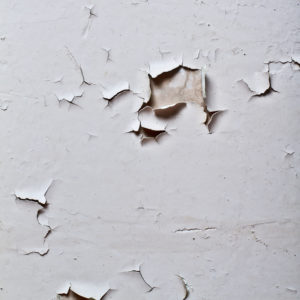 You're buying or selling property constructed prior to 1978
Considering the demolition or renovation of a property or addition that's older than 1978
Considering the demolition or renovation of a property or addition that's older than 1978
Children are living or spending time in a home or building older than 1978
There are two types of lead-based paint testing that we commonly perform in Dayton, Ohio and the surrounding Miami Valley: Lead paint inspection and a lead risk assessment. They may sound similar, but they serve different functions.
Simply put, a lead-based paint inspection is often used for renovations and demolitions because it focuses solely on the lead content of painted surfaces, whereas a lead risk assessment is better suited for general property liability as it includes a broader overall picture of lead risk.
What is a lead paint inspection?
A lead paint inspection is the very specific identification and measurement of lead content in all painted surfaces. Lead paint is extremely hazardous when breathed in or ingested, so this is particularly relevant prior to renovations that may disturb and create lead dust. Painting over lead-based paint with new paint is a very common practice, often referred to as "sealing" or paint film stabilization.
During a lead paint inspection we take samples using an XRF instrument (radioactive gun) that provides results within seconds. We systematically identify the lead content of all paint surfaces throughout the home and provide a report to the client that documents the location of lead-based paint.
What is involved in a lead paint risk assessment
Our environmental scientists will come on site and conduct a series of inspections and take samples to be analyzed by a lab. This starts with a visual inspection of the property indoors and out, identifying all potential lead hazards and areas of concern. Then, we take samples of deteriorated paint and collect dust wipe sampling. The concept is that friction and impact surfaces containing lead paint are constantly emitting lead dust, and/or lead contaminated soils tracted in from outdoors would spread lead throughout the home. We also conduct soil sampling for lead and, if necessary, we'll do water sampling, as well.
After the results of the lab analysis come in, our scientists will compile all of the data from the analysis and the visual inspection and create a report that details the level of risk and a plan of action, which will likely include abatement, encapsulation, or preventative maintenance. We then take on the role of customer advocate and consultant, helping to direct the abatement contractor and monitoring their work to ensure that the lead paint risk is properly handled.
What is the cost of a lead paint inspection?
An Ohio lead paint inspection will cost between $1,500-2,500 depending on turnaround times, square footage, and other factors. A lead risk assessment usually costs between $700-$1,500 depending on size of the property. One variable that can affect lead paint inspection costs is the state of deterioration of the paint or substrate (wood, drywall, plaster, concrete). If the deterioration is significant, paint chip samples are required for each surface in the room, at which point the testing firm would need to rent an XRF (X-ray Fluorescence). This makes for a much more thorough test and could make total costs more in the range of $1,800-2,700.
Why should I get a lead paint inspection or risk assessment?
A lead paint inspection is most commonly conducted prior to remodeling or demolition projects where lead dust could be generated, or if there is significant paint and/or substrate deterioration.
A lead risk assessment identifies all lead hazards and is used in varying scenarios, mostly involving lead exposure to children. If you have a child under the age of six in a home built before 1978 a risk assessment would show what those children are being exposed to. Kids spend a lot of time on the floor and put their hands in their mouths frequently. If lead paint chips or dust are present in the home, it's very possible they could end up being ingested by children. This scenario is important for both homeowners and property owners, especially if renting to families or businesses that cater to children. A lead clearance test is a government-mandated inspection required to prove that a home has had all lead hazards addressed following an investigation that identified the property as the source of lead poisoning in a child.
What is a lead paint clearance inspection? Why do I need one?
If there is a child with elevated levels of lead in their blood, the Ohio Department of Health will conduct a combined inspection and risk assessment of the suspected properties where the child spends time. The state health department then develops a hazard control order and requires clearance inspection and testing from a third party. The clearance testing determines whether the risk of lead exposure has been appropriately eliminated. The scope of the lead clearance is dependent on the scope of the hazard control order.
What is a lead risk assessment report?
After lead paint sampling and testing analysis is completed, a report is compiled that contains all of the data, plus next steps. Those steps create an action plan with recommended abatement and/or removal, plus further testing to ensure the risk is properly contained. The environmental consultant who conducts the test and creates the report often acts as an ongoing consultant and expert in determining if the abatement is satisfactory in removing the risk of lead-based paint from the property.
Should I test my water for lead?
Water testing, often referred to as water sampling, is not required as part of a standard lead risk assessment, but it can be requested or recommended depending on the circumstances. It is often recommended in older homes that may have lead main lines, interior lead soldering, or even lead associated with plumbing fixtures. If water testing is requested, three samples are required: A first draw sample after a minimum of eight hours without being used; a second draw sample to assess the interior piping contributions; and a third sample to capture the main line after several minutes of flushing.
Lead Paint Testing Services in Dayton and Southwest Ohio
We're booking lead paint inspections now for residential and commercial property owners.
Call us at 937-335-8807 or use our easy contact form to schedule your Lead Paint Testing in Dayton, Ohio
Check out our full array of offerings for Ohio lead paint inspections.