Asbestos Pollution and Hazardous Material Exposure
According to a blog by Kaitlyn Fusco on Asbestos.com, natural disasters, industrial accidents, and even acts of terrorism, often scatter hazardous materials, including asbestos, across miles and wide geographical areas.  This often includes dust, soot, concrete powder, lead, from old paint, and hazardous asbestos pollution.  
For example, in 2011, an EF5 Tornado hit Joplin Missouri.  As the 200 mph tornado ripped through the community, killing 158 people, injuring more than 1,000 and causing over $2.8 billion in damages, it also spread airborne hazardous materials and asbestos pollution that became not only toxic to the residents of Joplin, but to neighboring communities also.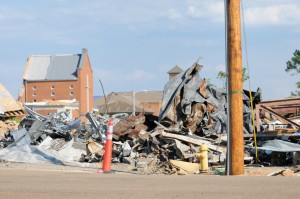 Asbestos Pollution in Disaster Areas
"After the tornado struck, the EPA issued a warning to Joplin residents and anyone involved in cleanup efforts, to wear protective gear.  This includes gloves and respirators to avoid the risk of developing mesothelioma and other asbestos related diseases.  The EPA also coordinated the removal of hazardous materials, monitored the air for the presence of asbestos and developed plans for rebuilding public and private buildings."
Similar problems developed after hurricane Katrina in 2005.  Many of New Orleans older homes, and commercial properties contained asbestos and other environmental hazards.  EPA reported that more than 100 hazardous pollutants including asbestos, likely contaminated the air, drinking water and flood water after the hurricane.  Those who aided in the cleanup efforts, often were not properly protected.  "Relief efforts continued well into 2008, exposing residents, workers and volunteers to asbestos for years after the hurricane struck. 
Late last year in Roermond, Netherlands, several massive boat sheds at a marina caught fire.  Dutch officials declared it an emergency because asbestos dust from the burning boats and marina covered most of the city's homes, cars, streets and roofs.  For more than 10 days local shops, restaurants, schools train stations and major highways closed while crews cleared asbestos from the city.  "Officials urged the city's 57,000 residents to keep windows and doors closed and remain indoors during the citywide asbestos removal."
Similarly, after the 9/11 terrorist attack, a cloud of asbestos and other hazardous materials hung over Manhattan.  While EPA orchestrated a massive cleanup, the World Trade Health Registry and the National Institute for Occupational Safety and Health estimate about 410,000 people were exposed to building material toxins, including asbestos.
After Disasters Take Precautions
It is important to be aware of these potential hazards and take appropriate precautions, if you find yourself in one of these disaster situations. TKEC offers comprehensive  asbestos consulting services in Dayton, Ohio and all of the greater Miami Valley in Ohio.