What you need to know about environmental liability. (Part 2)
In addition to the Phase I ESA there is a Phase II and a Phase III ESA.  The purpose and objectives of the Phase II and Phase III are different but interrelated. 
What is a Phase II Environmental Site Assessment?
Phase II investigations are conducted to evaluate the presence or likely presence of a contaminant.  These investigations typically include soil and/or groundwater sampling, but they can vary widely in scope.  Sample collection may involve simple grab samples; use of a hand auger, drill rig, or GeoProbe; and/or installation of monitoring wells; and may require more than one sampling event. 
 The number of sampling locations is dependent on the size of the property and the locations/types of potential environmental concerns, as well as geological conditions.  Samples are typically screened in the field using specialized equipment and selected samples are analyzed in a laboratory for suspect contaminants.  Laboratory results may be useful in determining if a property is contaminated, by which types of contaminants, and to what extent.  Phase II activities are conducted using scientific methods, sampling protocols, decontamination procedures, and quality control measures to define the scope and breadth of the recognized environmental condition (REC).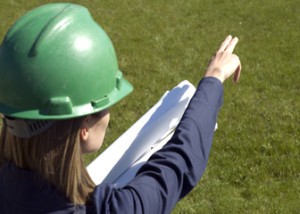 When is a Phase II ESA necessary?
Phase II investigations are often, but not always, conducted in response to the identification of recognized environmental conditions (RECs) by a Phase I ESA.  Phase II ESAs may be conducted to determine potential environmental liability, human health risks, and business environmental risk.  Phase II ESAs define the scope and breadth of the environmental risk.  Depending on the results of a Phase II ESA, more than one sampling event may be necessary.  This may be necessary in order to delineate the extent of contamination or to reduce the level of risk. 
What is a Phase III ESA and when is it necessary?
A Phase III ESA, also known as Remediation Investigations/Feasibility Studies, is a necessary step in the environmental remediation process of environmental contaminants from a property.   Phase III ESA's are broad in scope and specific to the contamination present.  The remediation techniques employed are determined by the severity of the contamination.  It may include excavation and disposal of contaminated soil; pumping and treating contaminated groundwater; storage tank removal; or disposal of drums.  Typically a Phase III includes:
Identifying the extent of environmental contaminants found during the Phase II Environmental Site Assessment process.
Determining the amount of soil and groundwater impacted by environmental contaminants.
Completing a Site Notification Report to notify regulatory bodies of site contamination.
Develop a Remedial Action Plan (RAP) to remove environmental contaminants from the property.
Assessing options available for parties involved, including costs and timelines of remediation.
A Phase III Assessment takes the information from a Phase II and determines the extent of contamination of the property.   A Phase III ESA develops a plan of remediation, which needs to have the approval of local, state and federal environmental agencies. It will also detail a full scope of options for all parties and time and costs involved with cleanup.  Once the plan is approved the remediation of the site can begin.
To learn how we can help plan your needed Phase III ESA, please contact us.